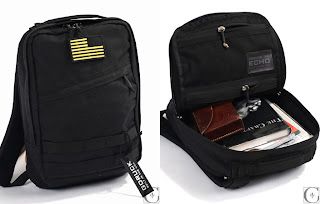 Last week I was sitting at my girlfriends mothers house in Kennebunkport Maine writing. The fireworks are going off in the background after a torrential thunder and lightning storm. I thought now would be good time to give my first thoughts on a new computer bag.
I will start this post of with the "I have a problem proclamation". My problem (or one of them) is computer bags and protections devices for my electronics.
Having recently purchased my 11 MacBook Air I found all my bags were to big and things were floating around rather sloppily. I started researching for something that would fit my needs better (if you are reading in self-justification that is part of it). I love my Tom Bihn Ristretto bag but that has since become my work bag. I easily could have ordered the [smaller Ristretto](http://www.tombihn.com/page/001/PROD/300/TB0221 "Ristretto for 11" MacBook Air: TOM BIHN") for the 11" but I thought I should vary it up a little. I was looking for something that I could keep the essentials with me as I create this new business. I also felt like I wanted to try a backpack again.
I already mentioned I was looking for a backpack. I wanted something small and sleek. I did not want it in leather. I do like modular systems for being able to switch out between bags. I made a list of wanted I wanted to have with me when I traveled. Essentials would include:
Nothing out of the ordinary. The paired down needs to allow me to do what I want to remotely. I started seeing a lot of talk about people using a backpack made my a company called Goruck. The bags were designed by an ex-special forces soldier to be incredibly simple and yet versatile. The bags come in black only and in 4 sizes. They not flashy in appearance, more of a tough minimal look and from what I can tell they are incredibly strong.
I went with the Goruck Echo as my choice. This is the smallest of the line holding 16 liters of gear. I was a little concerned that it might be too small. Patrick Rhone had also been kind enough to share his thoughts with me via email. The bag came in just in time for this short visit up north. Loading it up was a breeze and there is plenty of room left over. In addition to the list above I had a couple of magazines and light shell coat rolled up inside. It will certainly also be able to fit a small micro 4/3 camera. A larger camera would fit perhaps with one lense but I am trying to reduce the weight of the things I bring by bringing only what I need. With a larger camera I suspect I would feel compelled to bring more lenses just in case. The back pack straps are very comfortable, also built in is a carry handle on the top which is super convenient. I have only had the bag for 72 hours and will need much more testing but my initial impression is positive.