I have had and semi-maintained a blog for about 16+ years. Some years were lost during one of the many conversions. I started on Blogger, then moved to Typepad, then Squarespace and finally WordPress. A few years ago, I moved to Blot.im. There were many reasons for moving yet again; cost, ease of use, the time required for maintenance and security and many of the previous content management systems were too heavy for me and what I like to do.
Blot allows you to have a blog, and the files are synced via Dropbox, Git or Google Drive. You write your post and add the files to your chosen sync method, and a few seconds later, you are viewing your live post.
If there is a text editor or processor out there, I used it at one point. Ulysses, iA Writer, Drafts, TextEdit, VS Code, CotEditor, MarkEdit and BBEdit are just a few. All my writing is Markdown.
Over the pandemic, I was cleaning my hard drive and found posts scattered everywhere. Some posts were in various apps depending on where I wrote the blog post; desktop, iPad or iPhone. I had hacked together multiple ways to post the updates depending on the platform. But there were always drawbacks. Inconsistency and the ability to view the post with images when writing it was huge for me.
When Bear version 2.0 came out, I looked at the application again. On the surface, it ticks many of my requirements:
Write in Markdown format ( and display it)
Support for images in the note
Support

YAML

for front matter
Shortcut support
Run on all Apple platforms (macOS, iPadOS, iOS)
Simple tagging or folder structure
Export ability to get notes out of it easily
Michael Lopp did a great review of Bear here. But one line stuck out for me.
I've written and edited two books in Bear.
If Michael can do that, I can use this as a playground for blog posts. I decided to create a simple hierarchy for blogging. If Bear provided me with nothing else, it would be fine, and of course, it does a lot more.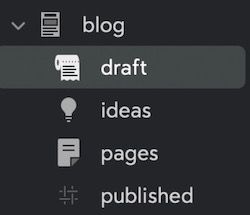 I spent a few days adding fake posts, importing posts, adding pages, updating older posts and overall trying it as I would want to use anywhere I am and want to write something. It all worked well.
As I mentioned earlier, I wanted to post just as quickly from my iPhone, iPad as my Mac. This is where shortcuts come in. I started playing with the actions in Bear and what I could or could not do. I looked for other shortcuts to adapt to my scenario and searched several blogs using Blot to see if anyone had already written something. I did not find anything. Then I remembered one of the independent sites I look forward to reading, HeyDingus by Jarrod Blundy, who also is a Blot user, and he does a lot of work with shortcuts.
I contacted Jarrod and asked if he thought what I was asking for was out of the question. I knew he had much more experience working with shortcuts than I did. In particular, I wanted the images from the post to be stored in the media folder in Dropbox and the post in the current yearly folder. Jarrod thought it was doable. I filled out my information here for a custom shortcut, and a week later, I had exactly what I needed. Now I can do all the writing and cleaning up in Bear and then run the shortcut to post to Blot in draft or live sections of the site.
I will write up the process and the fantastic notes Jarrod put together for me in the next post.