Carrying long cables in my computer bag is one of those sillly things that makes me nuts. First they used to float around my bag. Then I purchased a few little pouches from Tom Bihn to hold them and that helped. But then I find I was stuffing a bunch in there and they were all getting tangled. Most of the time now I just need a cable for an additional power top off from my computer.
I have looked at several smaller version of these type of cables. The ones I like the most were from Griffin. Just before I was about to buy them Aviiq annoucened a new line of cable products called the Ready Clips.
From the website:
Created to be carried like a pen and to be just as portable, the AViiQ™ Ready Clips are sized to match the stand pen size of 5.5 inches.
These cable looked really nice. Short, sturdy and several different connection options for you to pick from. One of my favorite features is there is a clip on the side of the cable which allows you to clip it into one of the pen size pouches that are in most backpacks and briefcases.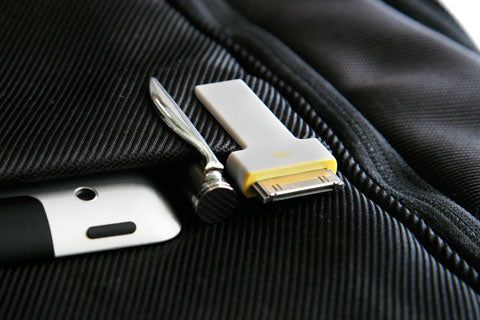 Cable clipped in to pen slot in messenger bacg.
The cables are very well made and should stand up to the rigors of travel.
My one funny criticism when the using cables, is that if you use them in combination with the Aviiq Portable Laptop Stand, that unlike a soft cable that allows your phone or iPod to lay flat using these leave your device at an elevated angle. The distance is not a real issue but it caught me by surprise.
FlatOn Aviiq Stand
Overall I like the cables and they will especially be great for traveling.