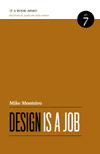 Design is a Job
I just finished reading Mike Monteiro "Design is a Job" book. This book is the seventh that has been published by A Book Apart. The tag line of a A Book Apart is "Brief books for people who make websites".  Mike is the cofounder of Mule Design. And a host of the podcast called "Let's Make Mistakes".
The book is certainly geared toward those running design firms. But I would not say running a design firm it mandatory to read this. There are many points in here that could be used by a project mananger or a small business owner. A lot of it is common sense but Mike backs it up with great examples that everyone should be able to relate to regardless of what they do. This certainly should be required reading for anyone in the design field today. Some real obvious takeaways:
Communication
Contract protection (but not to be used as shield)
Clear project goals
Mike blends the rules and lessons learned of running a design firm with great humour. His case studies are on point. Considering I don't run a design firm I really enjoyed the book and would recommend it for others.